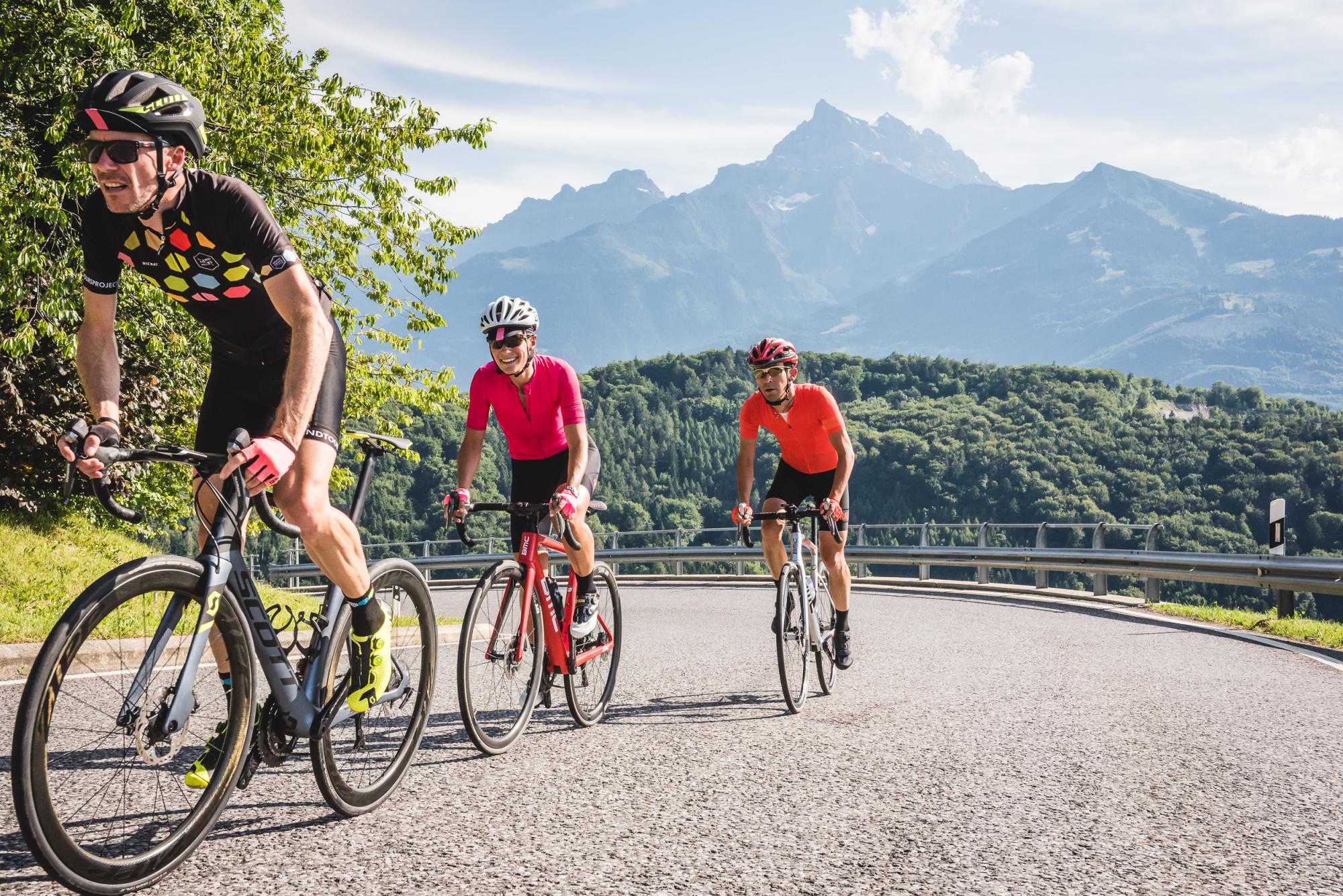 Are you looking for a self-guided or fully supported cycling holiday in the Alps?

From the vineyards of the Chablais to the base of the glacier in Les Diablerets, discover the Alpes vaudoises, their characteristic mountain chalets, their high mountain pastures and their snowy summits.

Located about 2 hours from Geneva airport, this cycling paradise is easily accessible by car or train.

Here you will find everything from challenging mountain passes to easy riding in the Rhone Valley, all on roads with little traffic and in excellent condition.

The region is also a centre for world cycling, home to the headquarters of the Union Cycliste Internationale (UCI) and regular host of stages of the Tour de Romandie and the Tour de Suisse.

10 GOOD rEAsons FOR A BICYCLE tour ACROSS THE VAUD ALPS
- Climb 3 classic mountain passes of the Vaud Alps: Col de la Croix, Col du Pillon, Col des Mosses
- Challenge yourself to climb up to 1,900 vertical metres per day
- Ride on quiet roads, ideal for cycling
- Enjoy the breath-taking Alpine scenery
- Stop at charming mountain villages like Les Diablerets, Villars-sur-Ollon, Rougemont and Château-d'Oex
- Pass near the World Cycling Centre (UCI headquarters) in Aigle or even stop for a visit
- Discover regional specialties such as L'Etivaz AOP cheese and wines from the Chablais vineyards
- Choose between an unaccompanied or guided ride
- Enjoy the advice and company of a local cycling guide
- Book an all-inclusive stay without worrying about luggage transport

DAY 1 - LES DIABLERETS – LA FORCLAZ – LES DIABLERETS
After your arrival at the hotel in Les Diablerets, you may go for a short warm up ride. Starting from your hotel, you will discover the region on small roads that will take you through high alpine pastures and past iconic chalets of the Alpes vaudoises. Two climbs on today's program: to Les Voëttes and La Forclaz, two charming mountain villages. Overnight in Les Diablerets.
-

25 km
-

2h00
-

849 Metres
-

Medium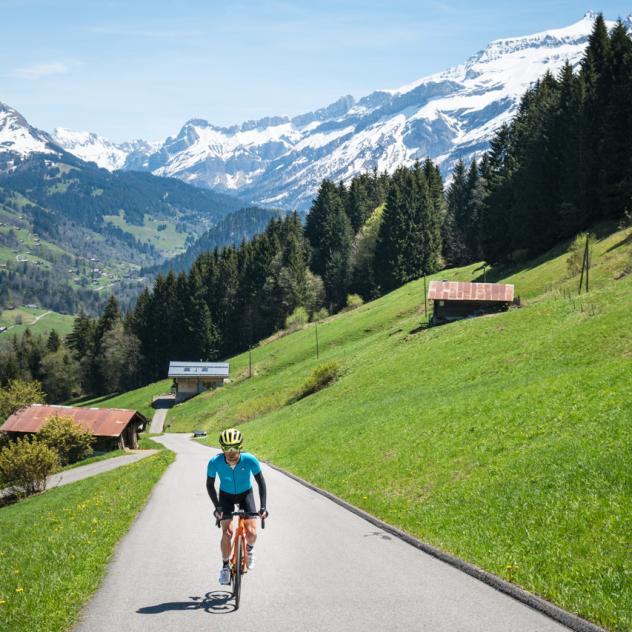 DAY 2 - LES DIABLERETS – VILLARS
Two classic mountain passes of the Alpes vaudoises are on today's program: the Col du Pillon (1'546m) and, after crossing the beautiful Pays-d'Enhaut region, the Col des Mosses (1'445m). On your way to the Col des Mosses, stop at La Maison de L'Etivaz (km 45) to taste the local cheese! A third climb takes you into Villars (1'300m), your destination for this second day. Overnight in Villars.
-

94 km
-

6h00
-

1892 Metres
-

Hard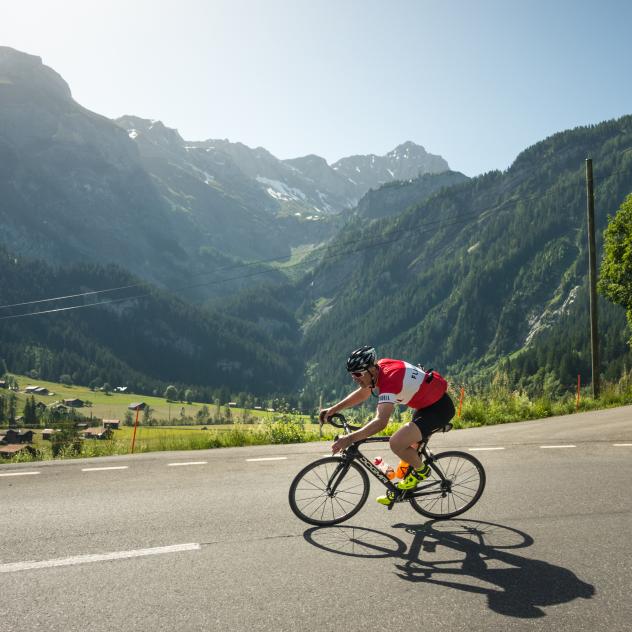 DAY 3 - VILLARS – AIGLE – BEX – VILLARS
After a 10km descent, you will discover the Rhone valley with a flat loop. Take a break at the café at the headquarters of the international cycling federation (UCI) in Aigle, where you can visit their magnificent velodrome. You will head back up to Villars via les Plans-sur-Bex, the favorite climb of many of our guests. Overnight in Villars.
-

72 km
-

4h00
-

1057 Metres
-

Hard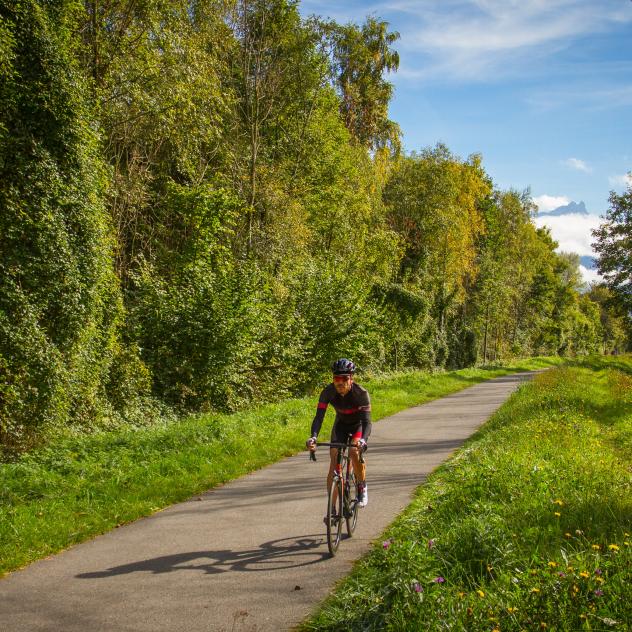 DAY 4 - COL DE LA CROIX
After breakfast, you will climb the last mountain pass on the program from Villars: the Col de la Croix (1'778m), crown jewel of the Alpes vaudoises. Then you are back in Les Diablerets, where we started the tour.
-

20 km
-

1h30
-

532 Metres
-

Medium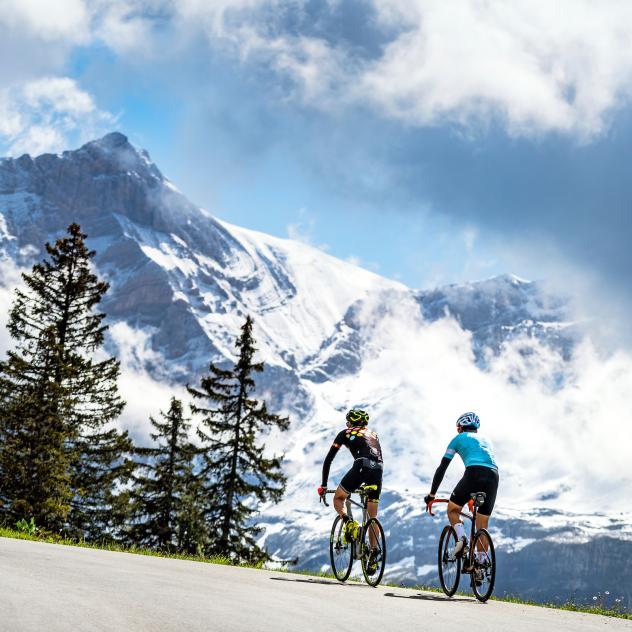 Book your Tour des Alpes vaudoises
BOOK YOUR tour ACROSS THE VAUD ALPS
SELF-guideD
BOOK YOUR tour ACROSS THE VAUD ALPS
WITH A PRIVATE GUIDE
BIKE RENTAL
Optional bike rental upon request (carbon frame and Shimano Ultegra or equivalent) from CHF 320.- per person (4 days)

BOOKING CONDITIONS
BOOKING REQUEST
Upon receipt of your booking request, we check availability and you will receive a confirmation e-mail within 48 hours from Monday to Friday. This message presents the program of your stay, the details of the hotels and the bill. Upon receipt of your payment, we will send you a link to download your travel documents.
TRAVEL DOCUMENT
Your travel documents will be emailed after receipt of your payment and at least 48 hours prior to your arrival in case of last minute booking. They include the details of the program with useful contacts, hotel bookings and a link for cards to print at home or to download on your smartphone.
A complete tourist documentation is available at the tourist offices of each destination.
LUGGAGE TRANSPORT
The luggage transfer service between each hotel is included up to one piece of 20kg per person. You drop your luggage at the hotel reception at the time of check-out and you will find them at the following hotel no later than 15:00 (day 2); day 4 (Les Diablerets) 12:00 at the hotel or to be defined.
CANCELLATION POLICY
If cancelled up to 45 days before date of arrival, no fee. If cancelled up to 30 days before date of arrival, 50% of the total price of the reservation. If cancelled later or in case of no-show, the total price of the reservation.
The total payment of the reservation is required on the day of booking.
EXCHANGE RATE
The price is mentioned in € for information purposes, the only legal change is the swiss franc CHF, its conversion is proned to the fluctuation of the exchange rate.