The town of Gryon was born in 1189 and belonged to the Abbey of St-Maurice, while neighbouring territories remained attached to the Bishopric of Sion. Before that
date, Gryon was a dependency of Bex, serving as pasture land for the Burgundian leaders. Remaining subordinated to the Abbey, which was the territorial lord, Gryon passed into the hands of several sovereign lords, among them the Counts of Savoy and as of 1475 the Bernese, who held it until its liberation in 1798.
The people of Gryon. lived frugally and worked hard in their steep fields and forests. They experienced difficult times, having to pay heavy tithes and property taxes to
the noblemen, and suffering several recurrences of the plague. In addition to these hardships, an enormous fire on 19 July 1719 destroyed 36 chalets on the alp of
Taveyanne and 68 buildings in the village of Gryon on the same day.
As of the middle of the 19th century, the life of the inhabitants of Gryon changed definitively when the essentially agricultural economy became a tourism economy with all its implications. The Bex-Gryon road, suitable for horses and carriages, was constructed around 1857 and the Peuffeyre electrical plant in 1895.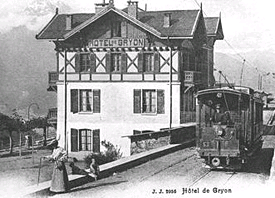 .
The Bex-Gryon electric railway came into existence at the dawn of the 20th century. These new transportation facilities brought the first urban guests to Gryon. Families from Lausanne, Geneva and from abroad were coming to spend their holidays in the numerous guesthouses in the village. The first holiday chalets were built. The most famous of these holidaymakers was certainly the poet Juste Olivier who settled in Gryon in 1871 after having spent several holidays at Cergnement. The enthusiasm of some Gryon inhabitants even became dangerous in the eyes of their co-citizens. Development projects for the Anzeinde plateau appeared, along with plans for a railway to the top of Les Diablerets. An opposition committee, and then the outbreak of the First World War, led to the disappearance of these ideas.
Although recent years have seen rapid evolution in terms of construction alongside further development of our tourism infrastructure, the long term offer on the plateau has remained relatively stable. Gryon is proud to provide a wonderful quality of life to its' inhabitants and hosts. The village worked to maintain a warm human welcome to its' tourist activities, wrapped up in a comfortable and welcoming family package.