E-biking in the Alpes vaudoises
Meet Suzy & Nono
Suzy and Nono have lived in Gryon for more than 20 years and are taking us out to visit the region by e-bike.
This retired couple who are passionate about outdoor sports devote themselves to walking, mountain biking, horse trekking as well as snowshoe walking, skiing and sealskins in winter.

WHY PRACTICE E-BIKING?
An e-bike is ideal regardless of the rider's physical condition and can be practised in an individual way. Switching to the electric function enables us to take it easier, so we can do longer rides.

WHY GO E-BIKING IN THE ALPES VAUDOISES?
An e-bike makes it possible to ride through any region thanks to the wide variety of routes, and you pass through varied countryside that alternates between plains and mountains.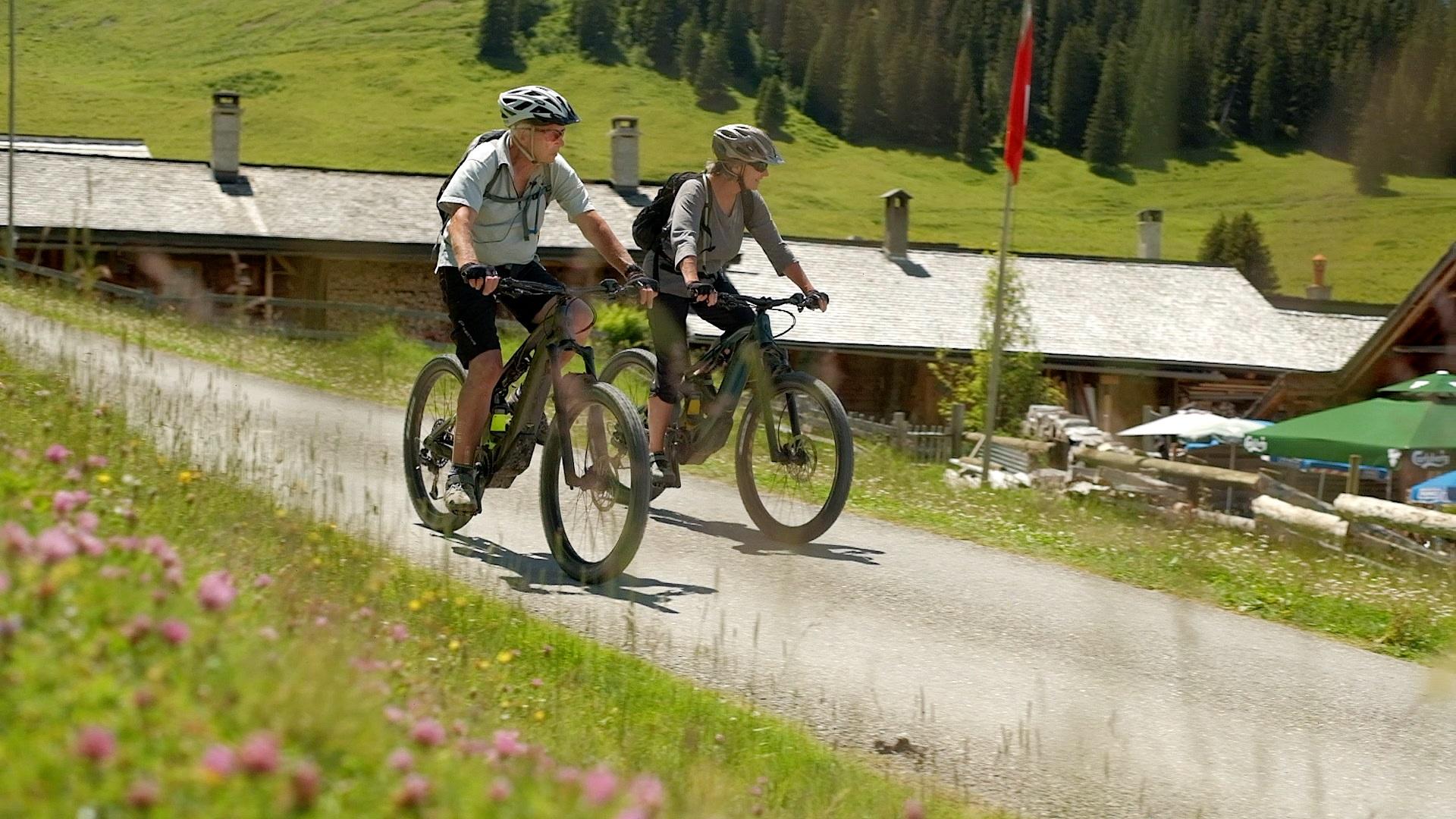 E-BIKING WITH SUZY AND NONO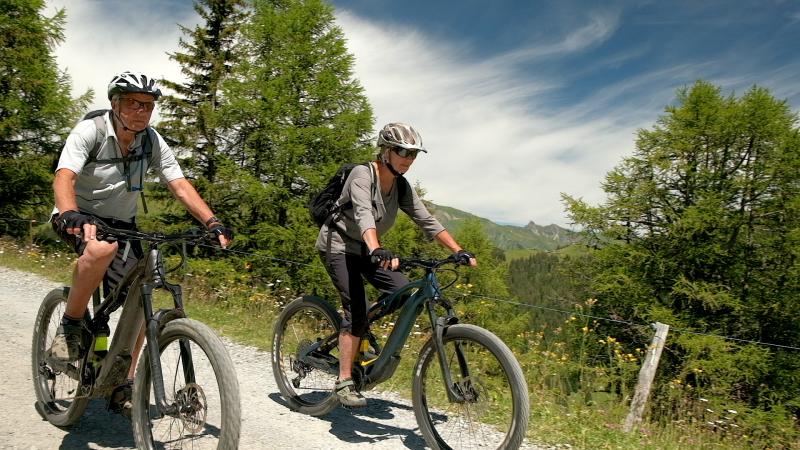 SUZY AND NONO'S ROUTE
Suzy and Nono start off on a loop from
Barboleuse
(Gryon). The main objective of the ride is to reach
Solalex
passing by the foot of the majestic
Miroir d'Argentine
. After a short break, it is time to pick up the route to
Frience
with its landscaped lake. There is no swimming today but maybe another time. They then continue to
Les Chaux
and the little village of
Taveyanne
with its typical chalets and their "tavillon" roofs (strips of wood). It is almost midday and time to have something to eat at the Taveyanne shelter: roestis and cream pie are on the menu.
The route then proceeds to the alpine pastures of
Col de la Croix
before starting back on the return journey.
The highlights of this route
:
You pass by the many exceptional natural sites including Solalex, which is a magical place offering a unique view, as well as the little village of Taveyanne, nestling at the heart of a nature reserve.
Thanks to the e-bike, we can go on long rides in the area without getting tired!
Nono
Quelques idées d'excursion DANS LA RéGION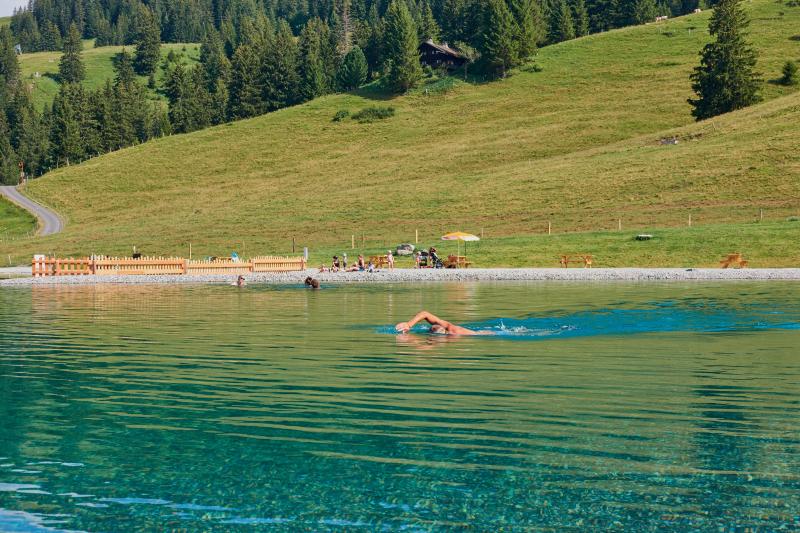 TAKE A DIP IN THE LAKE AT FRIENCE
During a bike ride or a nice day out, Suzy and Nono particularly appreciate being able to swim in the lake at Frience, perched at an altitude of 1,500 m in the heart of the alpine pastures of Gryon.
This artificial lake blends perfectly into its surroundings. It is a unique area to relax for those who are looking for a peaceful site at an altitude.
The coolness of the lake is a real benefit for unwinding on a hot day. The picnic area is ideal for taking a break.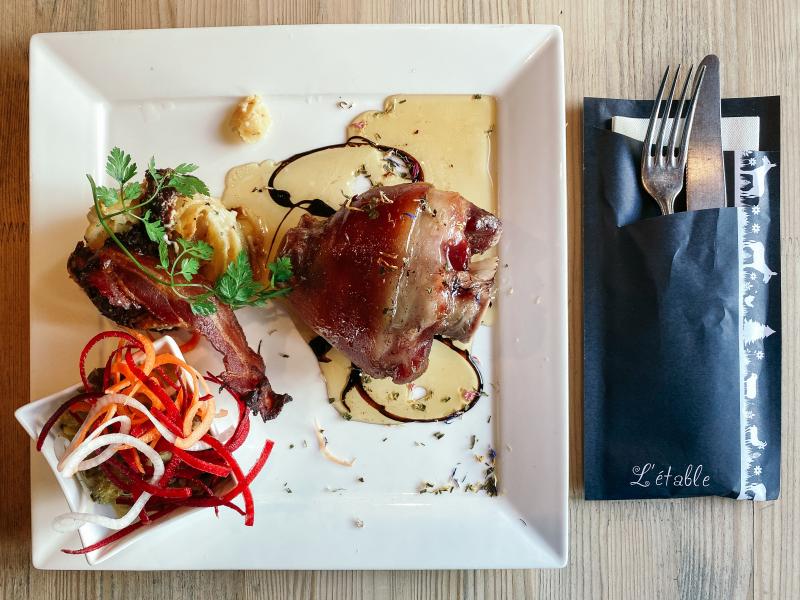 EATING AT L'ETABLE
Suzy and Nono recommend taking a gourmet break at L'Etable restaurant in Gryon.
There is an indication in its name, which means barn. It actually stands on the site of an old barn that has been carefully converted and decorated to preserve the warm and authentic spirit of the place. And to add to the charm, animals can be seen from the restaurant thanks to a large window looking out onto the barn. This is where you can eat alongside Sancho and Tempête, the resident donkeys, as well as the "black-faced" sheep, and some chickens and other feathered friends.
Suzy and Nono's favourite dish
: ham shank roasted in honey.

ADMIRE THE SUNSET FROM LES CHAUX
One of the most attractive places for admiring the sunset in the region is located at Les Chaux, above Gryon.
For an even more spectacular view, it is ideal to climb up to Croix des Chaux some 20 to 30 minutes' walk from Chaux. This summit peaks at an altitude of 2013 metres and offers a magnificent view of the surrounding mountains.
A GOOD PLAN :
get to Les Chaux by cablecar from Barboleuse (closing time : 4:30pm).
the journey is included with the Free Access Card and the Magic Pass during summer.