Welcome to the Rando Center at Villars-Gryon-Les Diablerets
EVERYTHING YOU REQUIRE TO START Ski TOURING
Villars-Gryon supports you in your first steps towards practising SKI TOURING.
Would you like to discover ski touring on your own or accompanied by a guide, as a family or with friends? At Villars-Gryon, we help you make a start with ski touring.

We provide you with everything you require to discover ski touring, combining enjoyment and safety:

- swept routes accessible for large numbers
- high-quality rental equipment, supported by Dynafit and POMOCA
- personal support to guide you in your first steps, overseen by the Swiss Ski School in Villars or in Gryon
- professionals to listen to your requirements
- advice to help you get started safely
- large open spaces to explore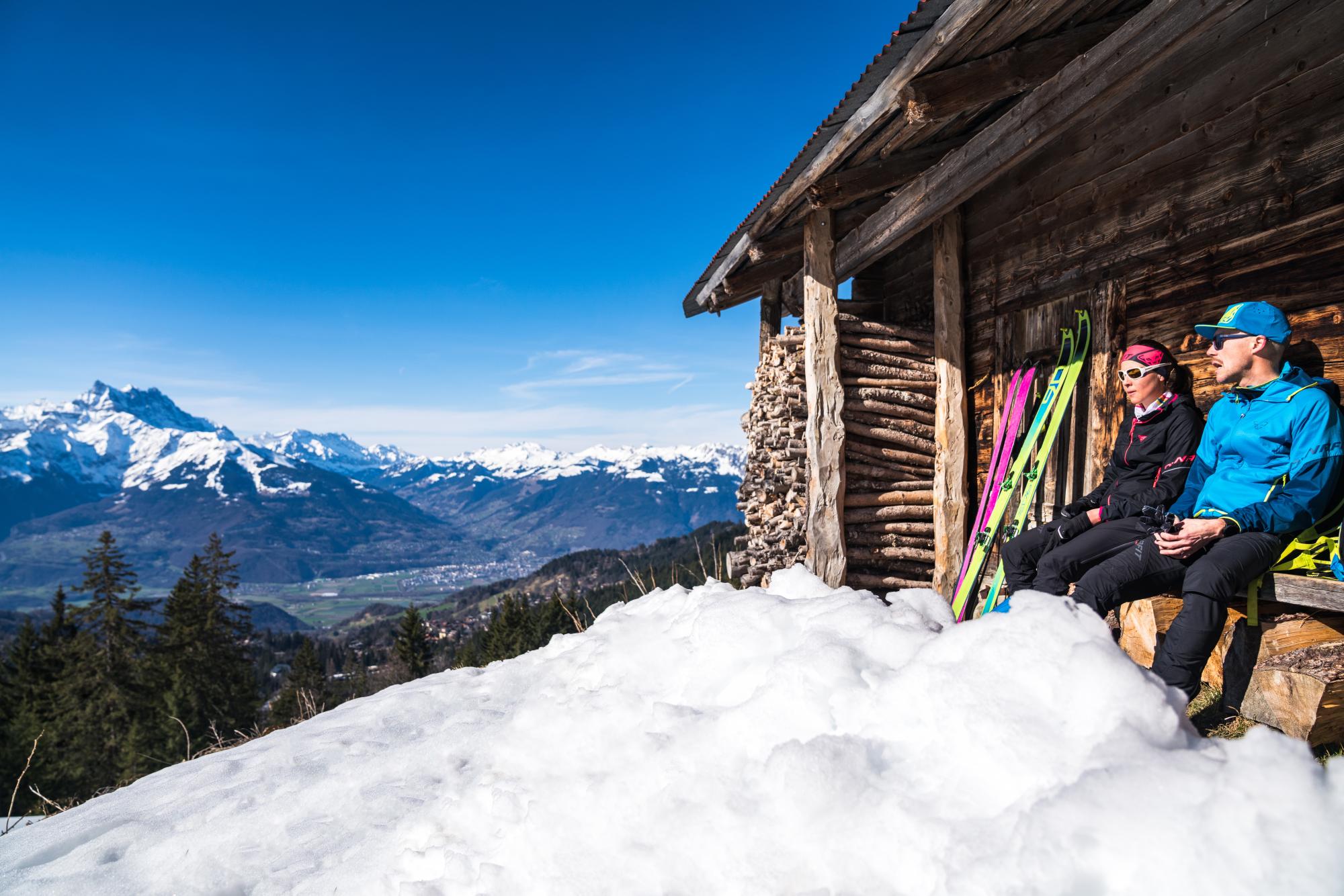 My passion for ski touring was communicated to me by a close friend with experience in this field. She always told me "You who like to move and be outside, I'm sure you're going to love it" and it's true! Going out with friends in a wonderful setting, incredible powder sensations in a wild setting... It really made me want to get into it! However, I don't hide the fact that as a beginner, it was not easy to start. I didn't have any knowledge about the appropriate equipment to have, nor about any technique to adopt, nor about the dangers of the mountain and the possible routes. I was a bit lost and discouraged! In the end, all this knowledge was transmitted to me little by little by a friend and my boyfriend, himself an alpine rescuer. I think the concept of Rando Center is great, because it makes it easier for beginners to ski touring, and it brings together all the information I would have liked to have to start!
Hélène D'Haenens, 26 ans
Booking

Call a partner sports shop for material hire and to book a course.
Equipment

Issuing of equipment and instructions at our partner shops.
Starting out

Personal support in an introductory course with Swiss Ski School instructors.
FREQUENTLY ASKED QUESTIONS
© Anthony Leutenegger
EVERYTHING YOU ALWAYS WANTED TO KNOW ABOUT SKI TOURING BUT NEVER DARED TO ASK!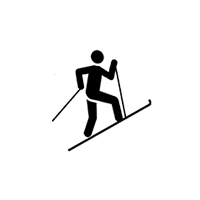 WHAT IS SKI TOURING?
Ski touring is a sporting activity which consists of exploring the mountains on skis in winter. As with snowshoes, it enables those who love wide open spaces to discover authentic nature while skiing.


CAN I PRACTICE SKI TOURING WITH CHILDREN?
Yes, this is quite possible: from the age of 9-10 years, depending on the child's skiing level and size. However, ski touring is not suitable for younger children as the equipment is not adapted to small sizes. In fact, ski touring shoes are only available from size 36. Do not hesitate to look for information on the equipment required at our partner shops.

> Our partner shops :
Sport's House,
McBoard
and
Paragon Sport.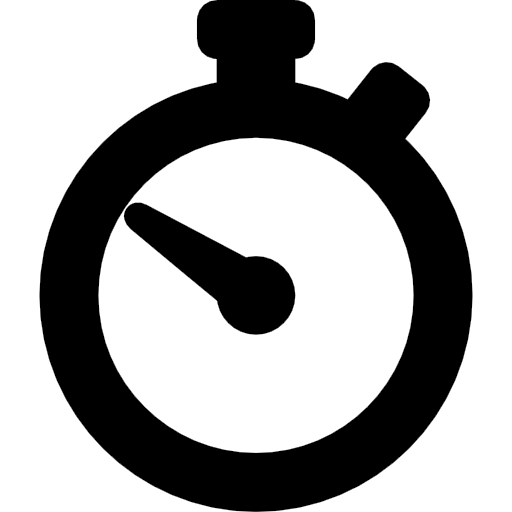 HOW MUCH TIME IS REQUIRED FOR A SKI TOURING TOUR?
That depends on your objective, but it might range from 1 hour for a short outing to several days for longer hikes.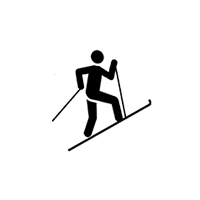 CAN I GO ON A SKI TOURING TOUR ON MY OWN?
Yes, as long as you choose to remain on the swept ski touring routes. There are about ten or so of these for all levels at Villars-Gryon and Les Diablerets. You will find a list of the routes below.
>
Ski touring routes

CAN I GO SKI TOURING AT NIGHT?
The Rando Parc routes are only open during the operating hours for the ski lifts. However, several routes in Les Diablerets and Villars allow ski touring to be practised at night. Some routes are open one evening a week, others are open every evening. For your own safety, you should not stray from the routes as maintenance work is often carried out at night. Find information below on the opening times for different routes.


>
Night ski touring routes

DO I HAVE TO PURCHASE A SKI PASS TO PRACTISE SKI TOURING?
No, a ski pass is not required as you are not using the ski lifts; you reach the summits through the power of your own legs. Find all the ski touring routes below.

>
Ski touring routes

WHAT IS THE IDEAL PERIOD FOR GOING SKI TOURING?
As soon as there is sufficient snow, so there is no ideal period. It depends on the season and the snow conditions but in winter in November and December, as well as in spring in March and April can be very good times for practising ski touring. To be certain of the snow conditions, find out information from the ski lifts at Villars-Gryon.

>
Snow condition at Villars-Gryon
TRAINING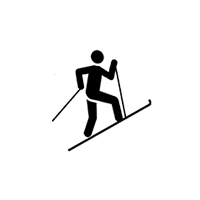 WHAT ARE THE REQUIREMENTS FOR PRACTISING SKI TOURING?
You do not need be at an excellent skiing level to do ski touring. However, it is recommended that you will have practised alpine skiing at the resort and know how to go down a red slope before starting ski touring. As a beginner, being in fairly good physical condition is ideal for starting out on small tours.


SHOULD I HAVE DONE AVALANCHE TRAINING TO START SKI TOURING?
If you stay on the swept routes, there is no need to have followed emergency avalanche training. However, if you would like to go off the beaten track, it is strongly recommended that you take a course which will enable you to traverse virgin territory safely. Furthermore, additional safety material (avalanche victim search device, shovel and probe) is required.


I HAVE ALREADY PRACTISED SKI TOURING, SHOULD I DO FURTHER TRAINING?

The Rando Center offers various courses according to your level.

The Villars and Les Diablerets mountain guides' office accompanies you to discover or improve your ski touring skills and trains you to evolve in complete safety in the mountains (safety courses and avalanche training, initiation and improvement in ski touring).

Once you are familiar with ski touring, the Swiss Alpine Club will enable you to broaden your horizons. The club offers lessons adapted to all levels, as well as more specific training for avalanches.

>
Villars and Les Diablerets mountain guides' office
>
Introduction to ski touring with the Swiss Alpine Club
>
Avalanche course with the Swiss Alpine Club

EQUIPEMENT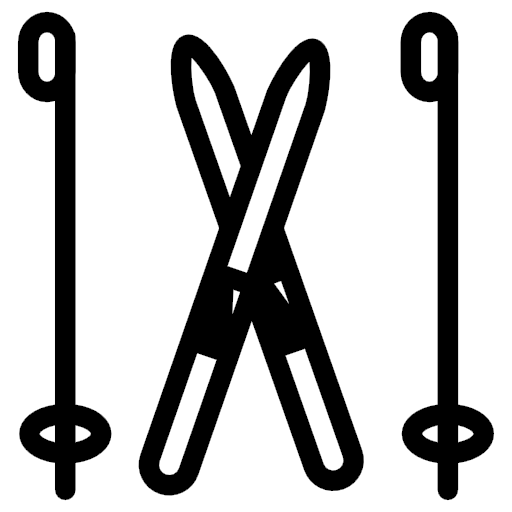 CAN I USE THE SAME CLOTHES THAT I WEAR FOR ALPINE SKIING?
It is possible to use your alpine skiing apparel for your initial trips. However, the clothing for slope skiing tends to be very warm as it is designed for the descent, it does not breathe well and it is heavy. For ski touring, effort varies according to whether you are climbing or descending. It is therefore preferable to wear special clothing when doing ski touring, as this is more adaptable and lighter to adapt to your efforts. The three-layer system (base-layer, fleece and windbreaker jacket) allows you to remain cool when climbing and keep warm for the descent. Our partners can give you further information about this concept when you visit the shop.

Rando Center Experience
© Anthony Leutenegger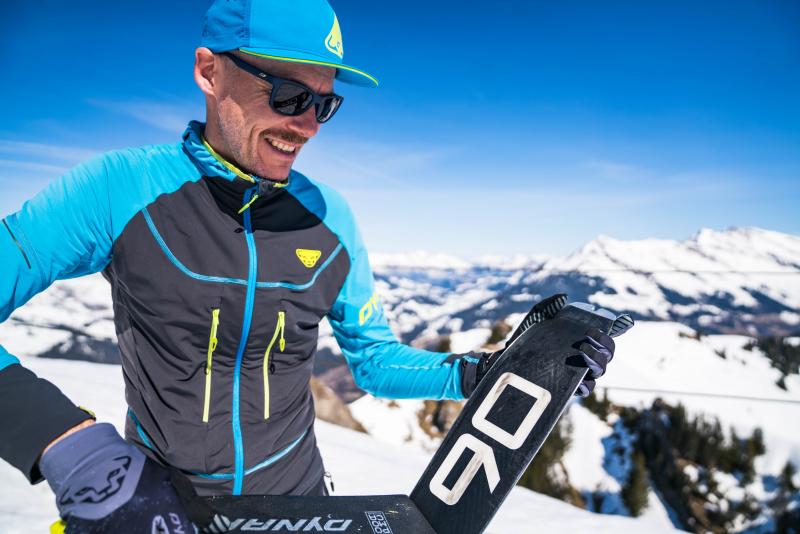 STAGE 1: PLAN YOUR RANDO CENTER EXPERIENCE
Contact one of the partner shops.

When you call, you can reserve:

- your equipment, comprising skis, shoes and sticks.

- a ski touring course, if you would like to learn in a calm and guided way. On the course you benefit from support from instructors of the Swiss Ski School in Villars.
HIRE OF FULL SKIING KIT
Skis + shoes + sticks of the Dynafit brand
RATES
Adult ; CHF 70.- / day
Child : CHF 55.-/ day
HIRE OF DYNAFIT KIT + 1 HOUR introduction
Hire of skis + shoes + sticks of the Dynafit brand
and
Introduction (assigning of equipment) for 1 hour on the Palace in Villars slope or in Frience (Gryon) with a pro from the Swiss Ski School.

RATES
Adult ; CHF 70.-
Child : CHF 55.-

SPORT 'S HOUSE
Route des hôtels 15
Villars-sur-Ollon
Phone : +41 (0)24 495 22 91
(Free parking)
SPORT 'S HOUSE TELECABINE
Télécabine du Roc d'Orsay
Villars-sur-Ollon
Phone : +41 (0)24 495 60 91
(Free parking)
MC BOARD
Avenue Centrale 117
Villars-sur-Ollon
Phone : +41 (0)24 495 13 39
PARAGON SPORT
Place de Barboleuse 6
Gryon
Phone : +41 (0)24 498 16 30
JACKY SPORTS INTERSPORT
La Gare 29
Ormont-Dessus
Phone : +41 (0)24 492 32 18
DIABLERETS PASS MONTAGNE
Rue de la Gare 50
Les Diablerets
Phone : +41 (0)24 492 18 17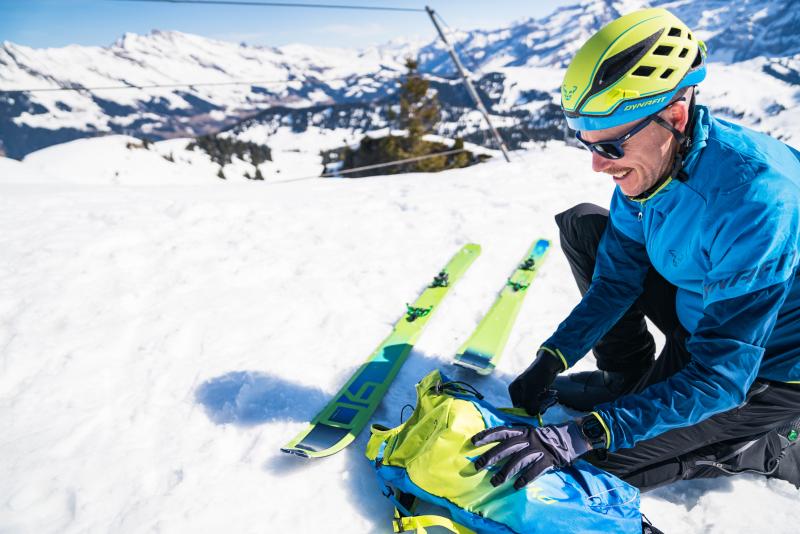 STAGE 2: PICK UP YOUR EQUIPMENT
Come to one of our partner shops to pick up your hire equipment.

You will be given instructions with regard to the use of the special ski touring equipment.

Our partners will support you and are available to answer your questions.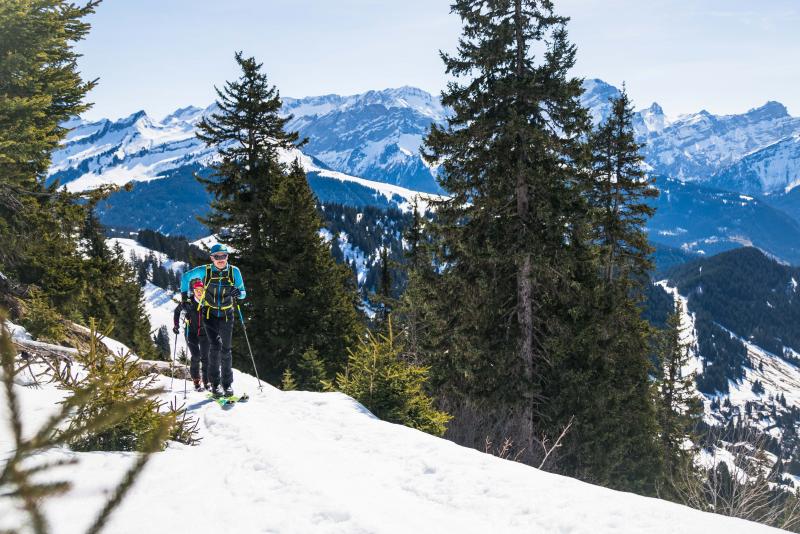 STAGE 3: GET GOING
Would you like to go ahead on your own?
Take your first steps in ski touring on the Villars-Gryon routes.
Would you like to be accompanied by a pro to start with?
Come to the Villars Ski School or the Swiss Ski School in Villars or Gryon or Les Diableretsl to train with one of the instructors. On the introductory course, you will learn to use the equipment correctly (use of fixings, placement of the skins and blades), assimilate good techniques and movements when practising ski touring (learning about conversions, rhythm and attire), and you will benefit from the advice of a pro.
This course will enable you to acquire the basics of ski touring and become independent.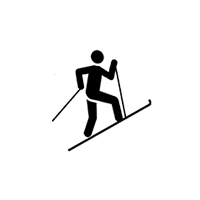 INTRODUCTORY COURSE
Every day at 4.30 p.m.
on the Palace run at Villars
with an experienced mountain professional
or
Every Monday at 3:30 p.m.
at Frience (Gryon)
with an experienced mountain professional
Objective of the course
: taking charge of the equipment and acquiring the basics for practising ski touring by yourself.
CHARGE
: CHF 70 per adult | CHF 55 per child
1 hour introduction + hire of equipment included
BOOK
at partner sports shops to benefit from the special offer.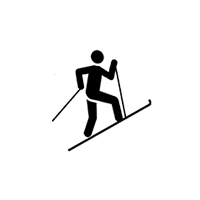 INTRODUCTION TO NIGHT SKI TOURING
Every Tuesday, from 5.30 p.m. to around 9 p.m.
Depart from the Roc d'Orsay ski-lift to ski to Bretaye; supper at one of the mountain restaurants.
Accompanied by an experienced mountain professional.
CHARGE:
CHF 40 per person
Equipment hire and meal not included.
BOOKING
at the Swiss Ski School in Villars:
www.ess-villars.ch
, or on +41 24 495 22 10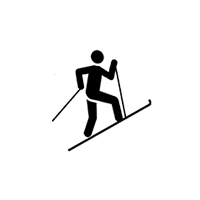 PRIVATE TOURS
You can book a private tour to benefit from the personal advice of an experienced mountain professional upon request with the Swiss Ski School in Villars
CHARGE
: from CHF 75/hour or from CHF 360/day
Equipment hire not included.
BOOKING
at the Swiss Ski School in Villars:
www.ess-villars.ch
, or on +41 24 495 22 10 or at the Villars Ski School
www.villarski.ch
or on +41 24 495 45 45
Advice
© Anthony Leutenegger
Are you booked on a course and you are keen to discover Ski touring? We offer you some advice.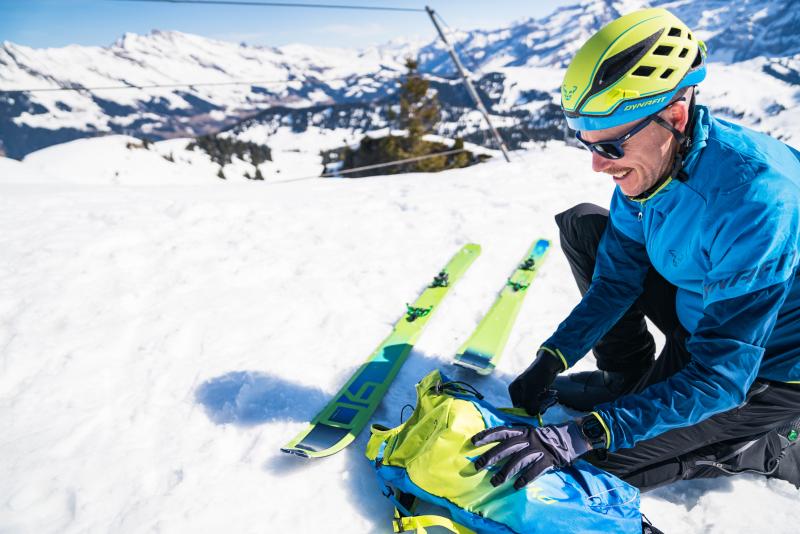 TIP NO. 1: SET OUT WELL-EQUIPPED
You are climbing with the power of your legs, so always take food and water with you. Cereal bars and dried fruit are very practical for quickly giving you boost.

Don't forget to take a small bag with you. A bag is very useful for storing your jacket if it becomes too warm, or if you no longer require your sealskins when going downhill.

Taking two pairs of gloves can turn out to be very useful on a trip: a thinner pair is pleasant when climbing and a thicker pair will keep you warm on a descent.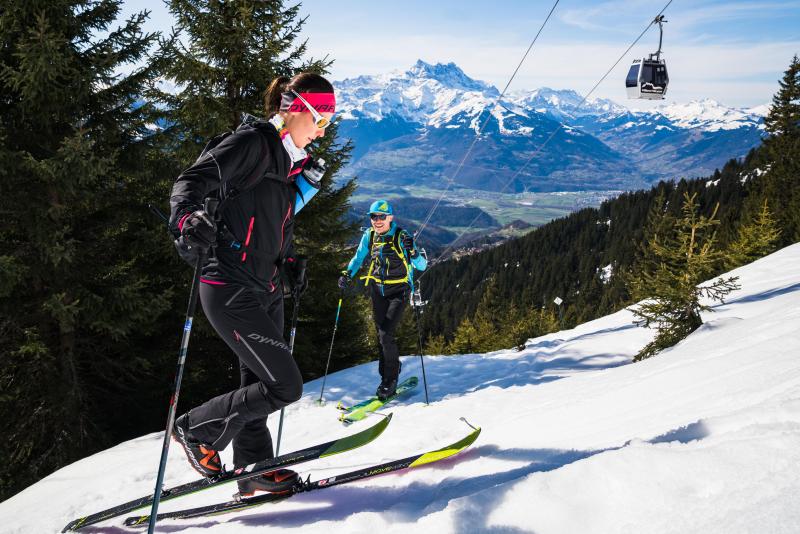 TIP NO. 2: BE AWARE OF HOW TO ADJUST YOUR EFFORT
When you start, avoid climbing too steep a slope, and press your heels with each step. If the slope becomes too steep, climb it in a Z shape. This stops you becoming too tired and helps you keep your balance better.

Do not lift your feet too much with each step as that is tiring. Get into the habit of letting the skis slide on the snow.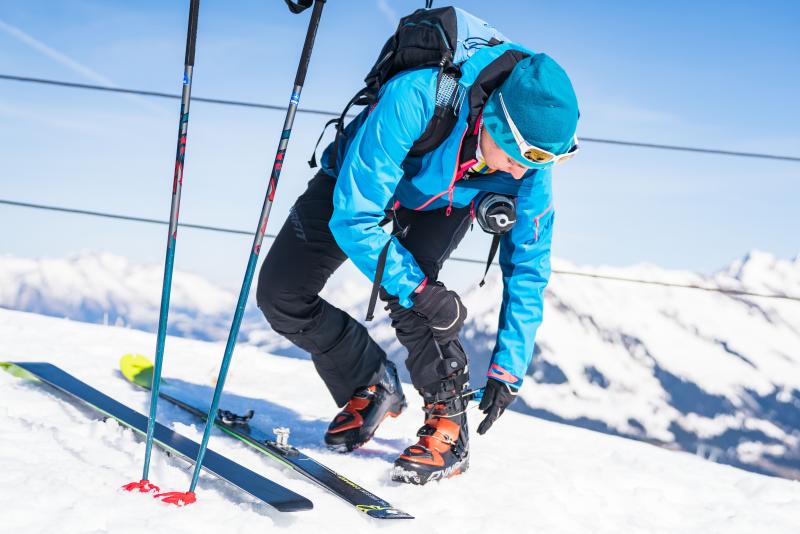 TIP NO. 3: CHECK YOUR EQUIPMENT
Before attacking the slopes, don't forget to put your shoes in the climbing position, then in the descent position at the summit.

Before setting off downhill, check your fixings: the heel must be fixed and secured.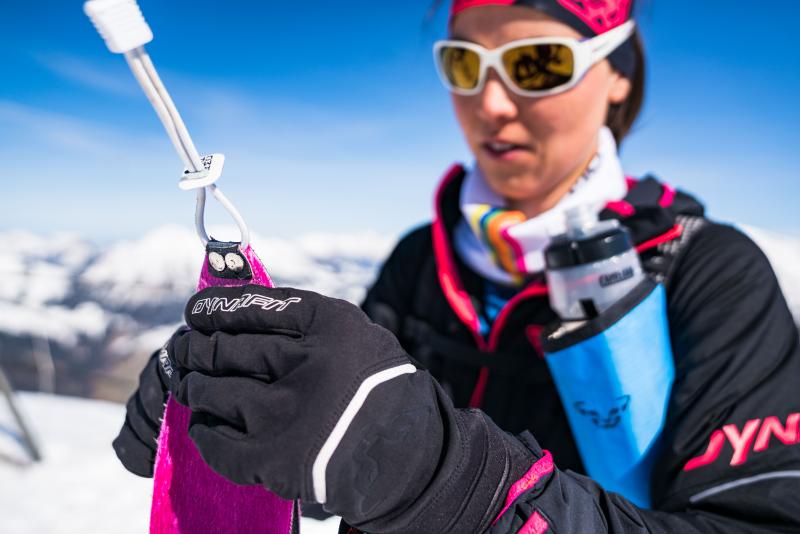 TIP NO. 4: TREATING THE SKINS
Don't let your sealskins dry out in the sun or near a heat source (radiator). This can damage the adhesive on your skins.

When you put on or take off your skins, avoid letting them fall in the snow to ensure they adhere well if you put them on a second time. In fact, if the adhesive is damp, the skins tend to stick less well to the skis.
The routes
© Anthony Leutenegger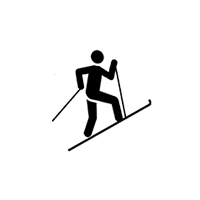 BRETAYE
Reach Bretaye by passing the golf course and following this route from Col de la Croix road.
Want to take a break?
- On your route:
Restaurant du Golf
and its panorama terrace.
- When arriving at Bretaye,
several mountain restaurants
welcome you in the heart of the ski area.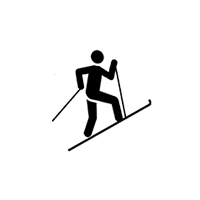 Roc d'orsay
A short steep route takes you to Roc d'Orsay
Want to take a break?
Upon your arrival, the
Roc d'Orsay restaurant
and its panorama terrace await you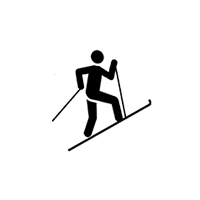 GRAND CHAMOSSAIRE
A steep route with an ascending elevation of almost 800 metres to reach the highest summit in Villars: Grand Chamossaire at an altitude of 2,112 metres.
Want to take a break?
- Upon arrival,
Roc d'Orsay restaurant
and its panorama terrace await you.
- At the summit of Roc d'Orsay, moments of contemplation in front of the panorama make the detour worthwhile.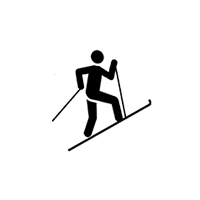 LES FRASSES-LES CHAUX
Want to take a break?
- "
Chez Gipsy
" is located at the end of this route.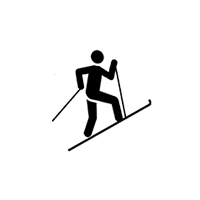 Frience (Alpe des Chaux) – Les Chaux
Want to take a break?
- "
Chez Gipsy
" is located at the end of this route.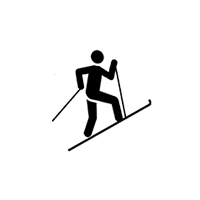 LES CHAUX-LA CROIX DES CHAUX
Want to take a break?
- "
Chez Gipsy
" is located at the start of this route.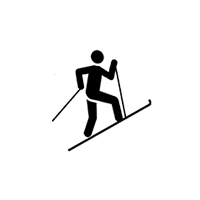 COL DU PILLON-ISENAU
Want to take a break ?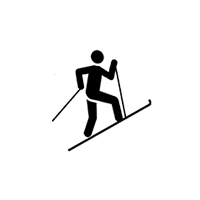 LES DIABLERETS-ISENAU (par les crêtes)
Want to take a break ?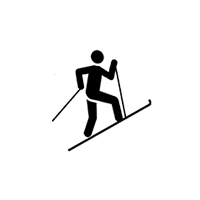 LES DIABLERETS-ISENAU (par la standard)
Want to take a break ?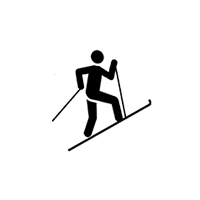 LES DIABLERETS-LE RACHY
Want to take a break ?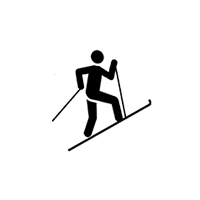 LES DIABLERETS-LES MAZOTS
Want to take a break ?
Safety and the environment
© Anthony Leutenegger

Security
The Rando Parc may only be used by those who possess the necessary technical abilities, fitness and equipment.
You use the signposted routes at your own risk.
There are no ski patrols working on the ascending tracks at any time.
The runs are closed outside operating hours of the ski and gondola lifts (before 8:45 a.m. and after 4:30 p.m.). Caution: Snow groomers equipped with traction cables may be operating in the area – risk of death!

ENVIRONMENT
The Villars, Gryon and les Diablerets Tourist Offices and Dynafit decline all responsibility in case of any accidents. Please follow the safety guidelines.
Don't leave any garbage behind, show consideration for the natural environment and the property owners of the land used! The forest is an undisturbed wildlife habitat, so please stay on the marked trails.