Winter in the Alpes vaudoises
THE MOUNTAINS OFFER YOU PLENTY OF FUN
We love skiing in winter! But we might not feel like skiing every day, so what else can we do?

At Villars-Gryon-Les Diablerets, there is no lack of activities besides the ski slopes to benefit from the fresh air on the mountain.

We offer you the opportunity to try out fun, inspiring and refreshing activities to discover the mountains in other ways.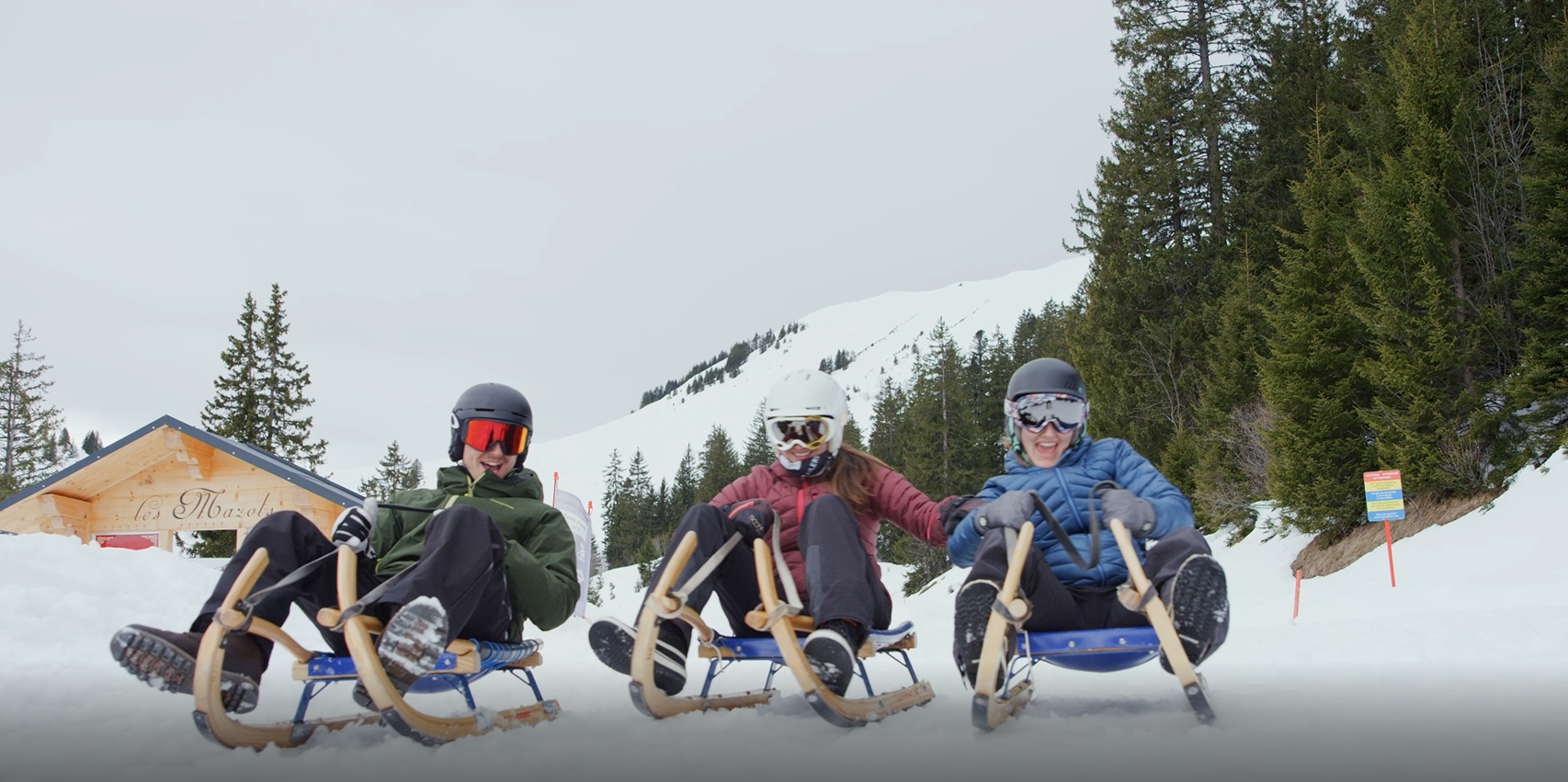 ON THE Sledge runS
© 5 Elements
Schuss down the toboggan slopes of Les Diablerets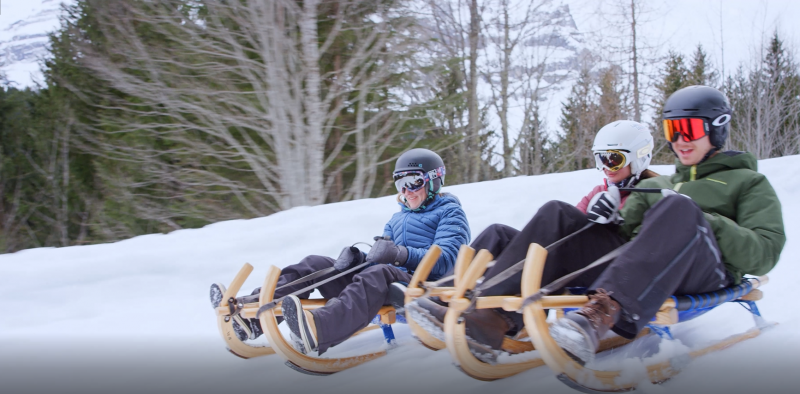 A WILD DESCENT
Who said tobogganing was an activity just for children?

In Les Diablerets, you can speed down one of the longest tobogganing slopes in Switzerland, with a 7 km wild descent that can be tried out by day or night. To practise this exciting activity, you have to hire a toboggan on-site and take the cable car to arrive at the departure place.

To ensure an optimum descent, premium toboggans are waxed and honed like a ski to ensure a smooth descent. An experience not to be missed is without a doubt the night descent by toboggan which heightens the sensations.

And for gourmets, it is possible to combine the ride with a fondue to be enjoyed at Les Mazots restaurant just before setting off.
EXCEPTIONAL SLEDGES
Would you like to try out the Rolls Royce of toboggans? Morerod toboggans, made in Les Diablerets, offer you unbeatable comfort for the descent. They handle as well as a car and take each bend with skill and flexibility.
The secret of such toboggans? Unique savoir-faire. The toboggans are made from ash wood, which is found locally and is ideal for crafting them. They have soles with edges added to them (like skis), which are honed and waxed for each ride to ensure optimal sliding.
And if you would like your own toboggan, the company Morerod makes a few each year; a special production which can be personalised.
Find out more
.
SKIJORING
© Maxim Coquard/Bestjobers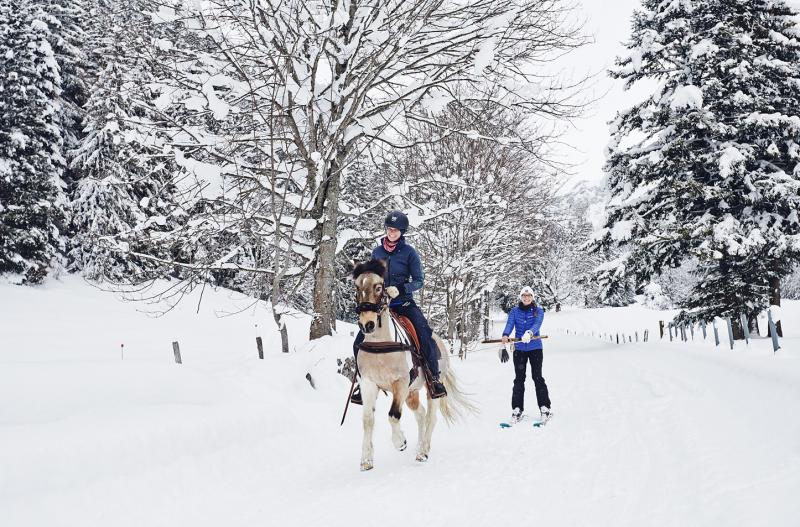 SKIJORING, TRY OUT NEW SENSATIONS
Originating in the Nordic countries, skijoring is skiing that involves being pulled by a horse, dog(s) or motor vehicle. In Gryon, we offer you this experience with horses.

Put on your skis, snowboard or telemark skis, brace yourself and off you go!

There is no need to be a seasoned skier or accomplished rider to practise skijoring. You simply stand on two skis and you are guided by your companion. Their pace is adapted to your level.

Even if you feel relaxed, you may be surprised at the speed attained (up to 28 km/h), which could provide you with a few thrills.
SKI JÖRING WITH HAPPY HORSES
In Gryon, you can practice skijoring with Movana.

With the horses Bella (a Haflinger mare) and Lutin (a Freiberger gelding), Movana organises introductory sessions and outings for those who want to try this discipline which comes from Scandinavia.

You don't need a special horse to practice ski jöring but a horse that is willing to play the game: go in the snow, shoot, tolerate the noise of skiing on the snow.
Horses have to train to get used to the specific noises of moving on the snow, to the weight on the shoulders since the horse pulls with the shoulders and not the back. It is a pulling animal that is more powerful to pull than to carry. A trained horse can pull up to 5 times its weight but can only carry 1/5 of its weight.

For an initiation, this discipline remains accessible to beginners who have mastered braking (snow ploughing) and is suitable for children from the age of 7 years old.
For the rider-skiers, Happy Horses proposes the jöring ski without rider; it's up to you to manage your skis and your horse! Walking, trotting and why not galloping?


WITH SLEIGH DOGS
© Max Coquard / Bestjobers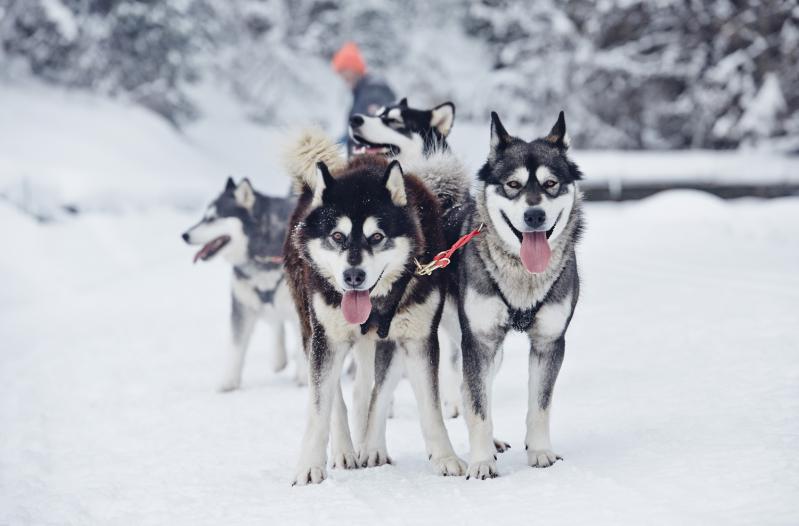 POLAR EXCURSION
A polar wind blows through the Vaud Alps. Sleigh dogs wait impatiently to warm up their paws and take you out on a trip.

Comfortably installed on the sleigh, you can admire the enchanting countryside around you. Dog sleighing is a unique activity which transports you into a Nordic ambience.