INTERESTED IN TRYING OUT A NEW SPORT THIS SUMMER? hOW ABOUT TRAIL RUNNING?
It's a sport that doesn't require a lot of equipment and enables you to discover your region and a host of scenic spots. No need to be an expert athlete; everyone can choose his or her pace or even walk to feel more comfortable (even I often walk uphill to lower my pulse rate).

Maude Mathys, championne et ambassadrice de Villars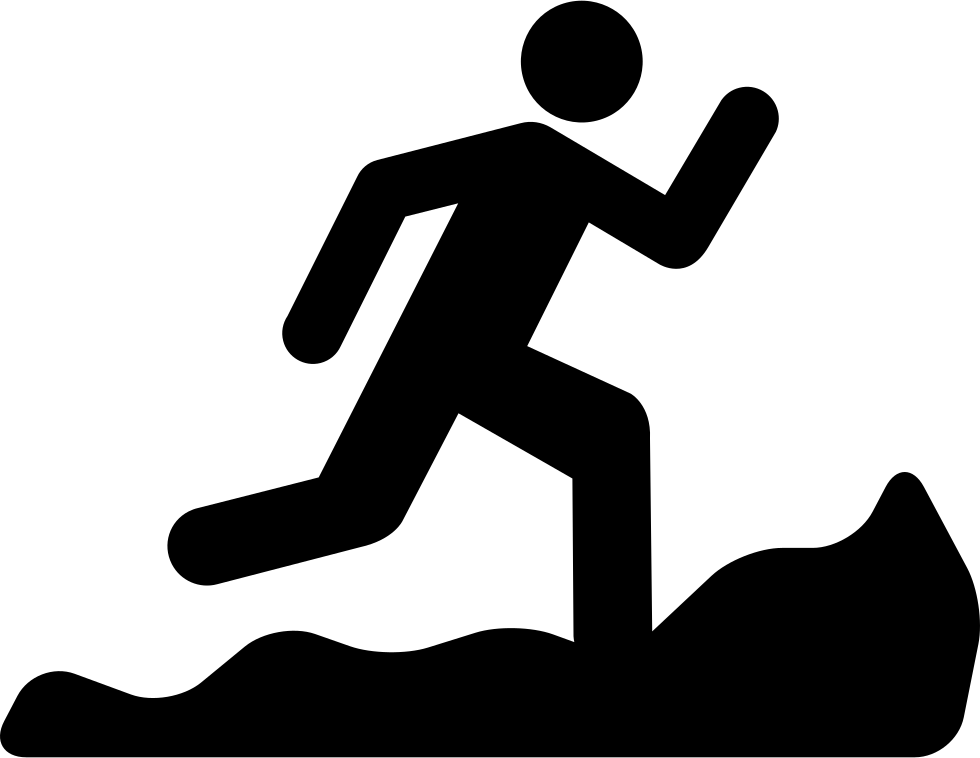 WHAT IS TRAIL RUNNING?
The sport is as old as running since it's practised outdoors and on all sorts of trails.
Trail running isn't only done in the mountains, although tough climbs and steep descents are often part of a trail running route.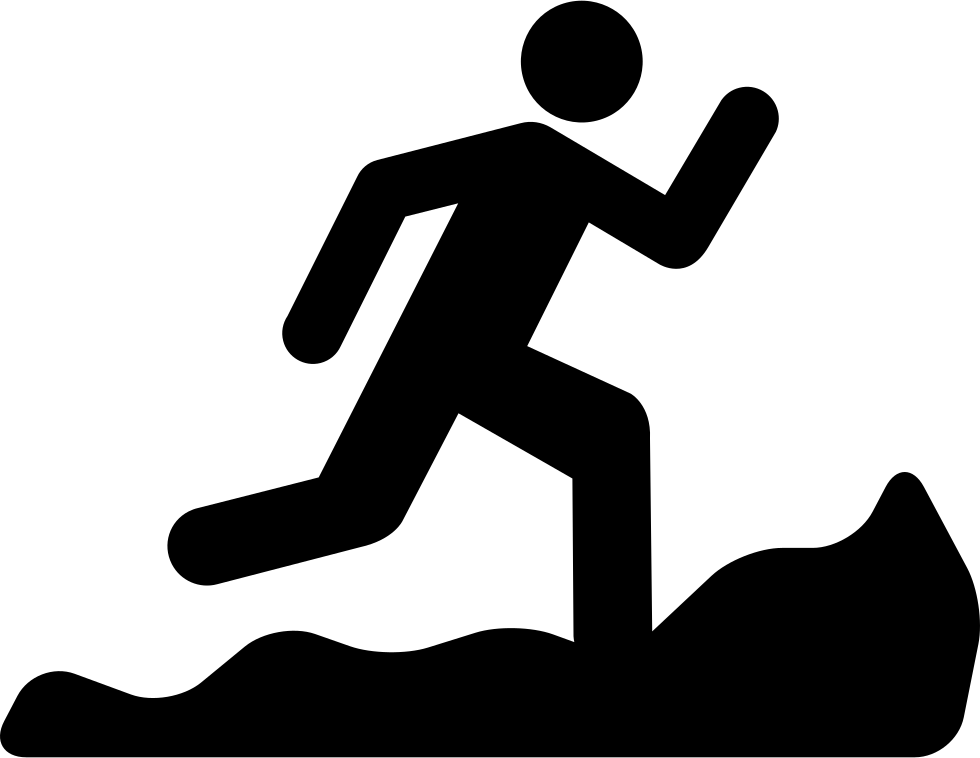 HOW TO DEAL WITH UNEVEN TERRAIN?
On uneven terrain, the trail runner alternates between walking and running, often helped by sticks.
On descents, the trail runner pays attention to his/her supports and focuses on the forefoot to cushion any shocks. Keeping the balance involves the whole body, notably the arms.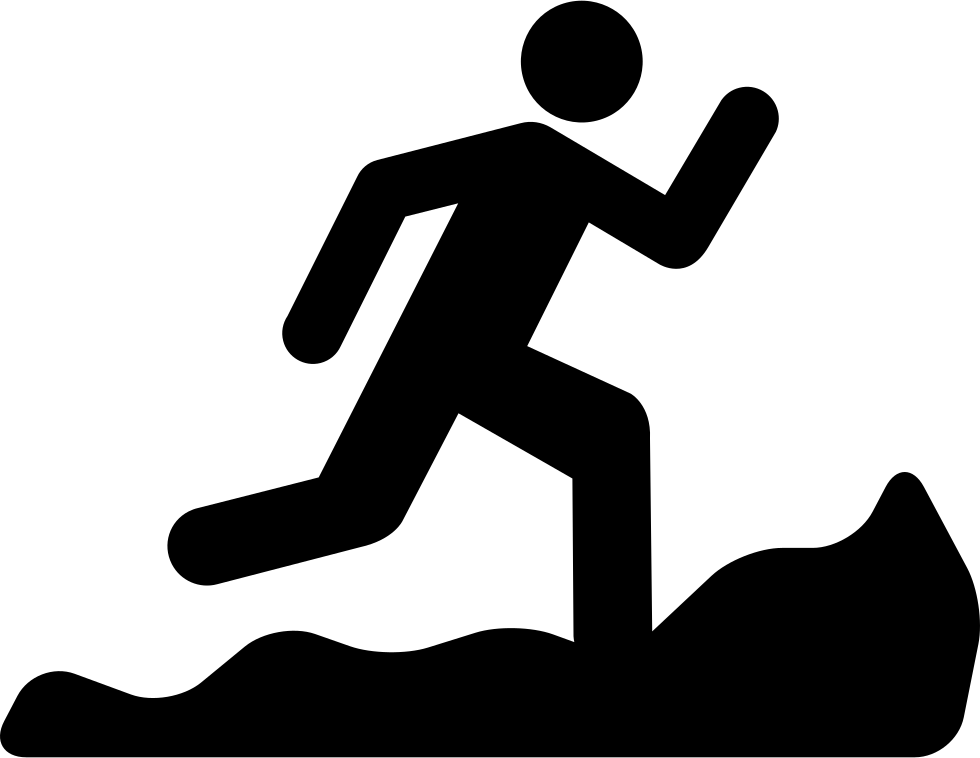 EQUIPMENT YOU NEED FOR TRAIL RUNNING
Unlike road running, trail running often takes you through unspoilt nature, and you need to be prepared to handle any eventuality.
Standard trail running equipment includes:
- trainers with good soles to absorb uneven terrain
- daypack
- water bottle to stay hydrated
- rain jacket (the weather can change quickly in the mountains)
- sticks
- something to eat
- cell phone for emergencies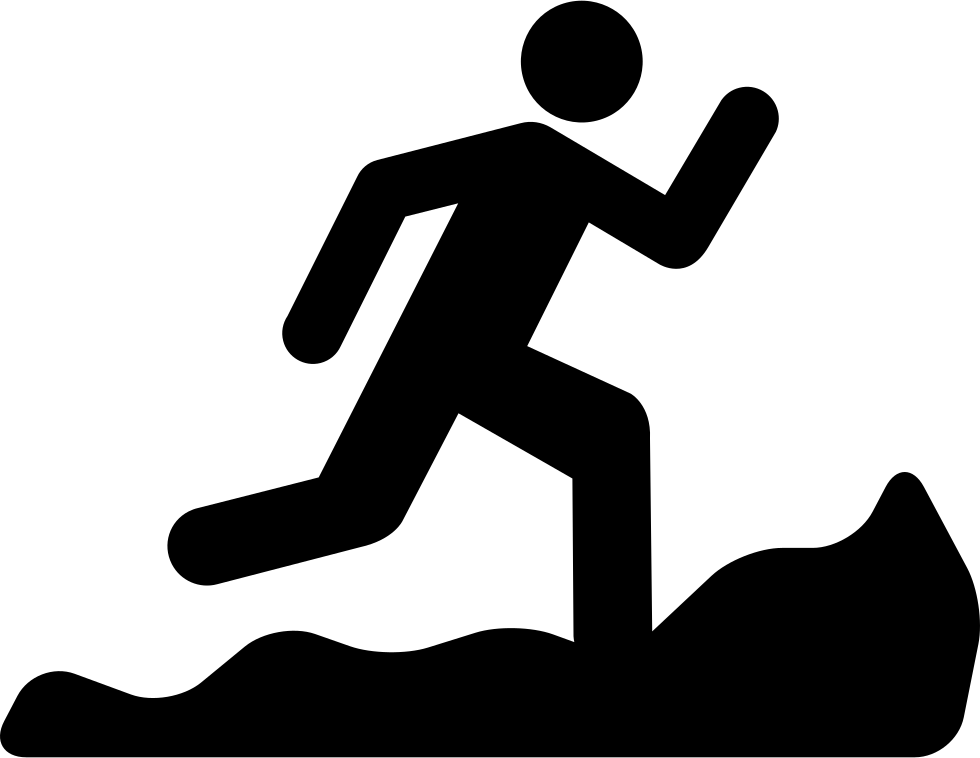 FROM TRAINING TO COMPETITION
Trail running has seen significant growth over the last ten years. More than 2 million runners regularly compete in races worldwide. Race distances vary from a few kilometres to over 100 kilometres for ultra-trail events, which are often held in the mountains.
Strava Challenge
© Visualps.ch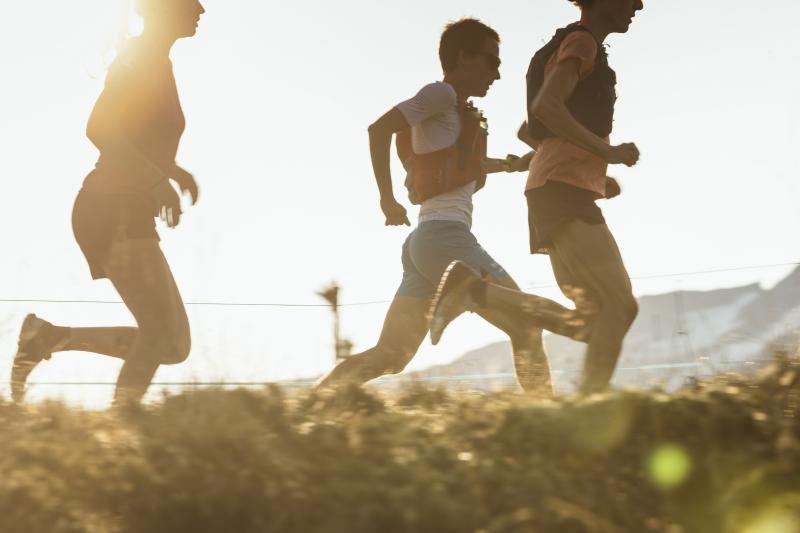 WHAT IS THE STRAVA CHALLENGE?
Record your time on the Strava platform as you complete the five running trails in Villars
between 1 June and 31 October 2021.
Those who have completed all these trails and recorded their best times will enter a draw to win prizes offered by our sponsor, Salomon!
HOW TO PARTICIPATE
- sign up on Strava
- complete the five trail running routes between June and October.
- give your best on the trails
- record your times on the Strava website to participate in the ranking and maybe win a prize offered by our sponsor, Salomon.
ROUTES OF THE STRAVA CHALLENGE 2021
This Challenge features five routes with varying levels of difficulty between Ollon and Villars.
Every month a route will be presented by local champion Maude Mathys. However, each of these routes can be completed between June and October as part of the Strava Challenge.
The courses are varied, ranging from flat to mountainous and from easy to very technical.
The Roc d'Orsay (Course Ollon-Roc d'Orsay) route is my personal favourite and also my test run (except I usually stop at Les Ecovets or La Truche). I do it regularly. My husband and I have been doing this ascent once a week ever since we started living here. It's great to see that, after a few years, I get can higher and higher in one hour.

Another nice thing about these routes is that they're either circular or allow you to reach your starting point by cable car and/or train or bus.
Maude Mathys, championne et ambassadrice de Villars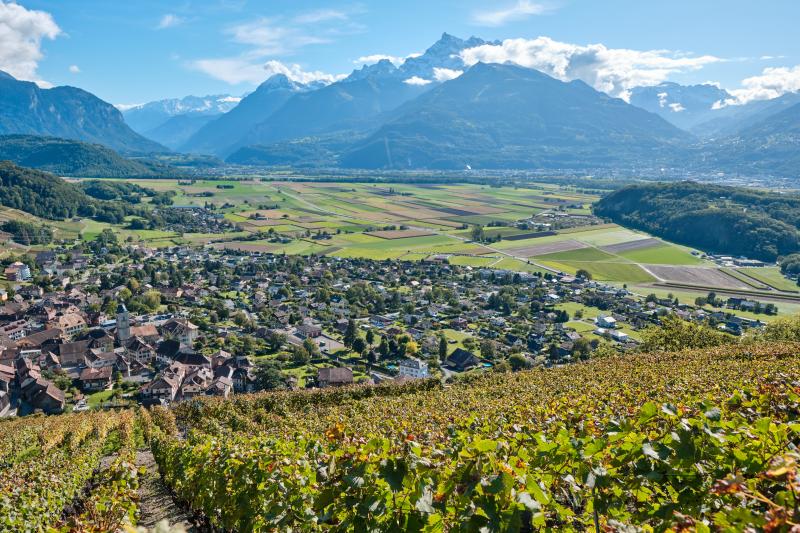 JUNE : The hills of Ollon
A 9.5km loop of moderate difficulty between vineyards and forests.

The stages : Ollon - Plan d'Essert - Glutières - Ollon
Positive difference in altitude : 437 m.
Negative altitude difference : 439 m.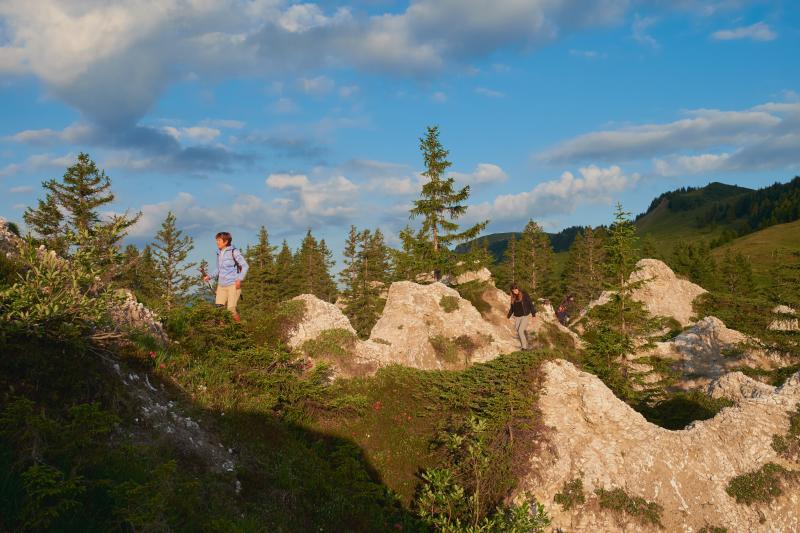 JULY : Gypsum Pyramids
A 12.5 km downhill course between Bretaye and Villars, with a moderate level of difficulty.

THE STAGEs : Bretaye - Ensex - Col de la Croix - La Verneyre - Villars
Positive difference in altitude : 239 m.
Negative altitude difference : 747 m.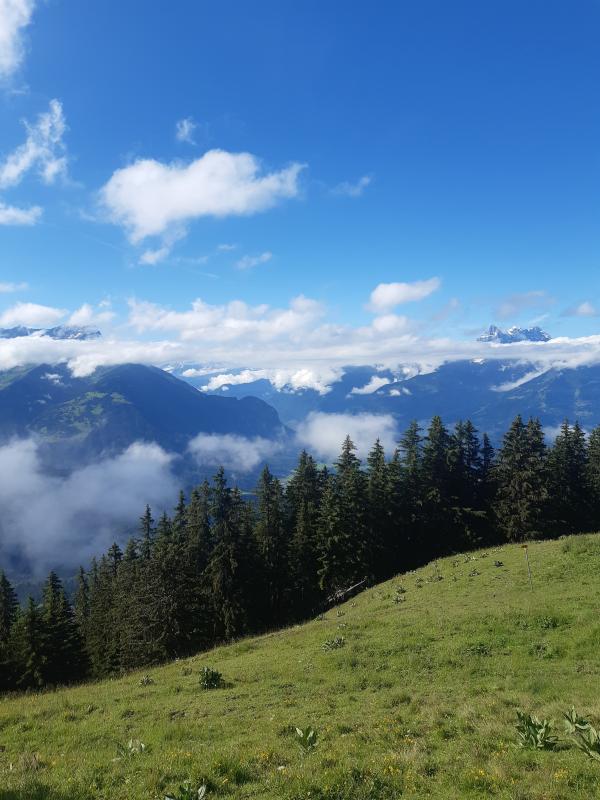 AUGUST: Ollon - Roc d'Orsay
A 9.08 km route for experienced sportsmen and women, which will take you through a variety of landscapes from the plains to the mountains, with a high level of difficulty.

THE STAGEs : OLLON - GLUTIÈRES - HUÉMOZ - LES ECOVETS - LA TRUCHE - ROC D'ORSAY
Positive difference in altitude : 239 m.
Negative altitude difference : 747 m.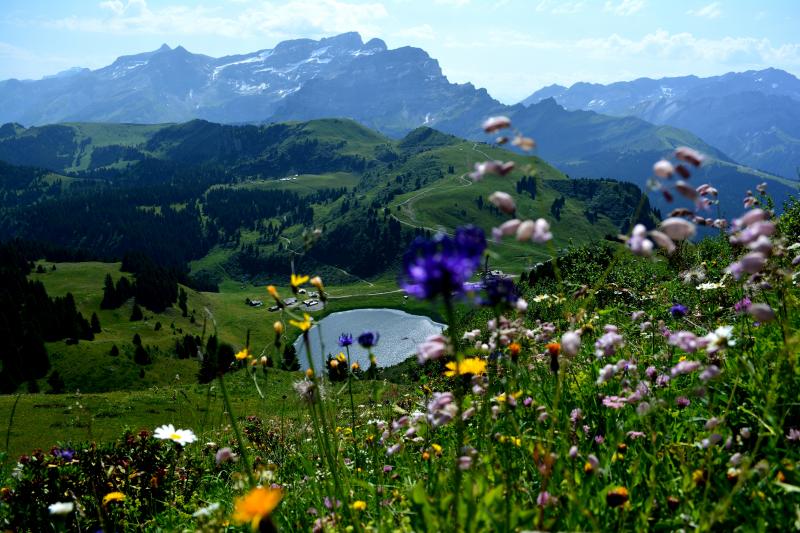 SEPTEMBER: Tour of Chamossaire
A 16.45 km trail that allows you to do the Tour du Grand Chamossaire, the highest peak in Villars, culminating at 2112m.
THE STAGES : LES PLANS DE CHESIÈRES - LA ROCHE - LES BOUQUETINS - BRETAYE - CRÊTA - LA LOUDZE - LA SÉLEYRE - BOIS DU DARD - LES PLANS DE CHESIÈRES
Positive difference in altitude : 1021m.
Negative altitude difference : 1020m.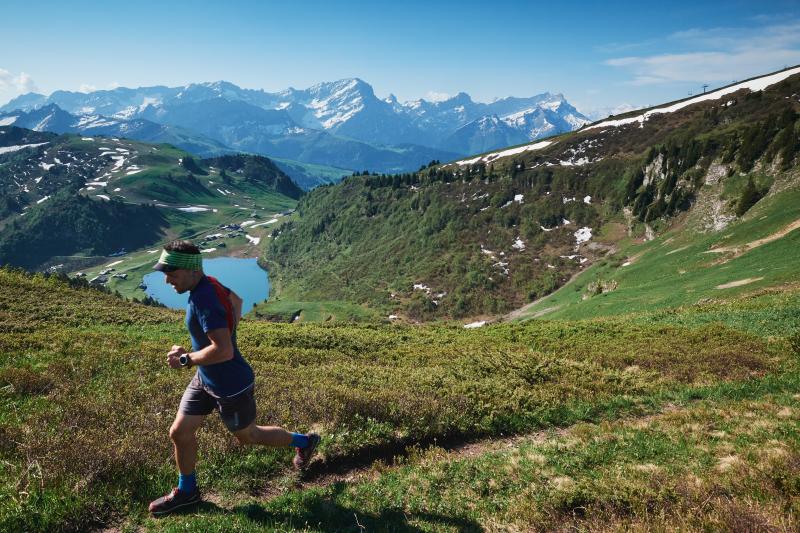 OCTOBER: Trail des Crêtes
This demanding trail itinerary is over 12 km long and offers breathtaking views of the Vaud Alps.

THE STAGES: ROC D'ORSAY CABLE CAR - BOUQUETINS - DIRECTION LA SAUSSE - ROC D'ORSAY - LE CHAMOSSAIRE - LAC NOIR - BRETAYE - COL DE SOUD - ROC D'ORSAY CABLE CAR
Positive difference in altitude : 986m.
Negative altitude difference : 986m.


TRAIL RUNNING IN THE REGION
© www.jeremy-bernard.com
Villars and Les Diablerets have created a 140-kilometre network of running trails for all levels.

With its scenic diversity, the Villars-Les Diablerets region is ideally suited for trail running. After a short while, trail runners find themselves near vineyards, surrounded by Alpine meadows, in the forest, on the shores of a mountain lake or a peak, enjoying breathtaking views at every turn.

The dense network of trails and excellent trail marking are more reasons why the region is perfect for trail running.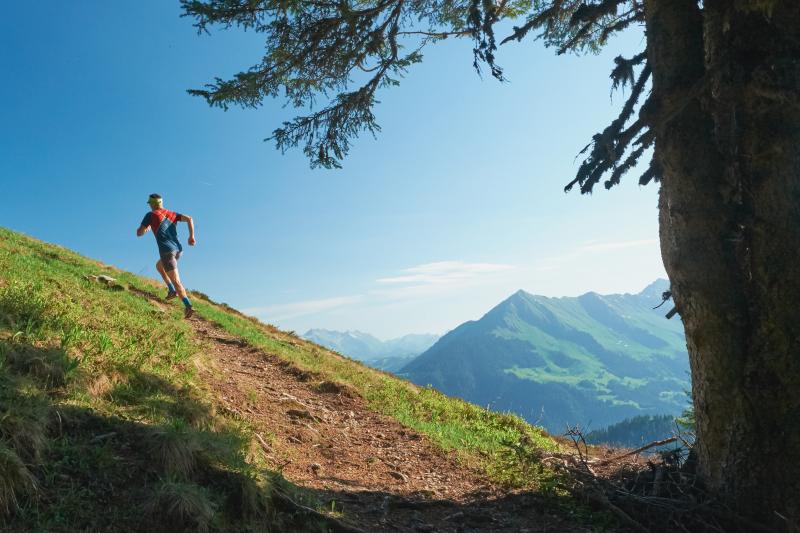 RUNNING TRAILS IN VILLARS
In Villars, beginners can get started on the Sentier de Renardeaux, an easy and pleasant route leading predominantly through the forest.
Several routes starting in Ollon and Villars await those who prefer longer distances or steeper climbs! Let's go!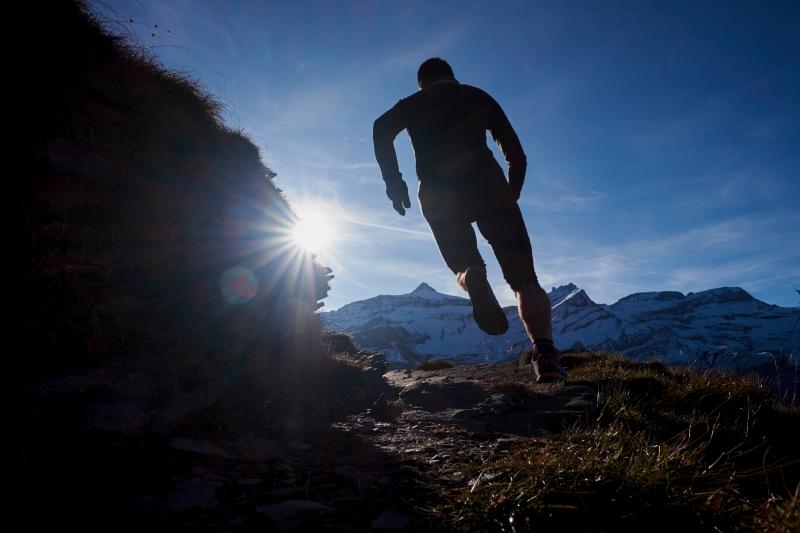 RUNNING TRAILS IN LES DIABLERETS
At Les Diablerets, nine routes with varying degrees of difficulty await you from easy to extremely difficult. They start at either the tourist office or Lac Retaud.
Trail races in the region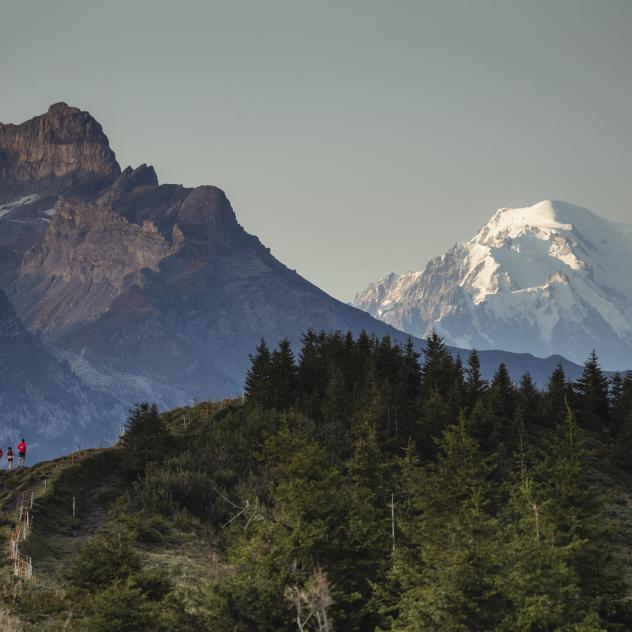 08 - 09 July
Villars Ultraks

Jul 8, 2022 - Jul 9, 2022 / Villars-sur-Ollon

Villars Ultracks, your new trail event in the Alpes vaudoises.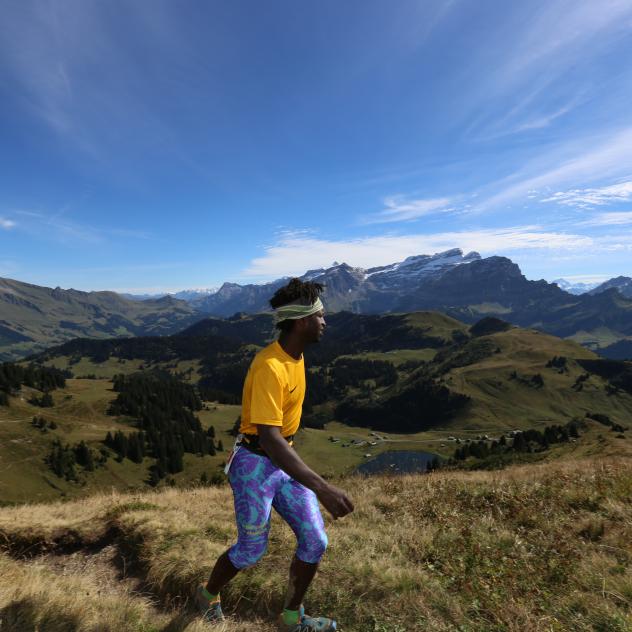 24 September
Humani'Trail

Sep 24, 2022 / Les Diablerets

For this 7th edition, 5 races are proposed, the profits of which are donated to associations in Nepal.
Maude Mathys
© www.jeremy-bernard.com

Maude Mathys, local champion
Maude Mathys is a high-level athlete and a mother of two children. She practises the elite sport with ambitious objectives which have been successful, with a number of podium finishes for national and international races for running as well as ski mountaineering.
She has lived in Ollon since 2008 and loves the region. It's ideal for training because of its varied terrain. Ever since she started living and training here, she has made great strides!
During training, she often runs up to Villars, where she appreciates the many activities taking place year-round.
How did you discover your passion for trail running?
I started running when I met my husband at the age of 18 (to spend time together), but I already loved sport as a child (track and field).
In the beginning, I ran twice a week, then three or four times; I also joined a group. Then came the desire to compete. I started with fun runs (on the road and in the mountains) before finishing my first trail run, Sierre-Zinal, in 2007, in 5:07 (as opposed to 2:49 today! :-) ).
I don't exactly remember a particularly challenging trail run because one tends to forget bad times quickly! But I do remember that the first mountain races were very tough and long. I finished at the end of the field and often didn't feel well for a few hours afterwards (vomiting, dizziness). I certainly wasn't used to this kind of effort.
In 2009, I started getting good results and celebrated my first victories.


SALOMON, PARTNER OF THE STRAVA TRAIL RUNNING CHALLENGE IN VILLARS
The Villars tourist office thanks Salomon for its strong support in organizing this Strava Challenge on the trails around Villars.
Ten athletes (five women and five men) who complete the five challenges and record their best times between now and 31 October 2021 will be awarded great prizes by the brand.