The Villars Sports Center is open BY RESERVATION.
The Villars Sports Center is open, reservation is required to access the facilities.
Exceptional closure of the indoor tennis courts of the Sports Centre from Tuesday 15 June 2021 at 9.00 a.m. to Thursday 17 June 2021 at 9.00 p.m. and from Tuesday 13 July 2021 at 9.00 a.m. to Thursday 15 July 2021 at 9 p.m.
In order to open a vaccination centre against Covid-19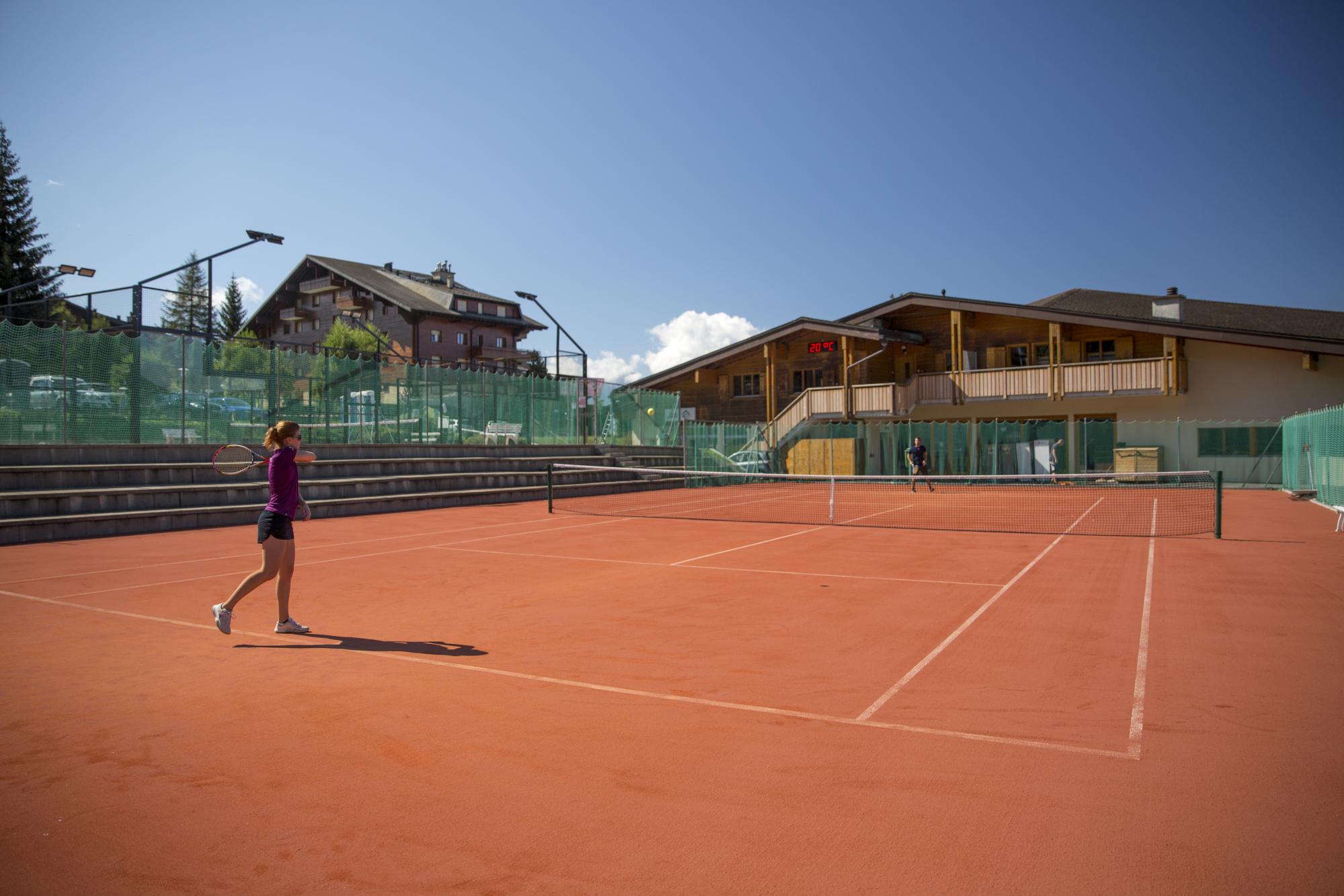 Tennis fans can use the 3 indoor carpet courts all year round and the 3 outdoor synthetic clay courts in the summer. The courts are in an ideal location a short walk from the Rochegrises train stop and a few hundred metres from Villars railway station.
The sports centre tennis courts offer you the chance to hit the ball in an idyllic environment surrounded by breathtaking views of the Vaud Alps. Let off steam with friends or improve your forehand, backhand and smash with one of the Sports Centre coaches.

- 4 outdoor tennis courts (synthetic clay), including one padel court
- 1 multi-sports ground
- 3 indoor tennis courts on carpet
Practical information
RULES
- Sportswear and clean indoor shoes are required.

RESERVATION WITH A FREE ACCESS CARD
- To rent a tennis court using the Free Access Card (outdoor courts only) each player must present his/her card. If only 1 out of 2 players has a Free Access Card, the second one will need to pay 50% of the court fee (see fees based on category and time).
- The same terms and conditions apply for 4 players (payment of the remaining balance for players who don't have a Free Access Card).
- Reservations: no more than 24 hours in advance.
Opening hours
Subject to change, depending on weather conditions
From Jun 5, 2021 to Aug 22, 2021
Monday - Friday

09:00 - 21:00
Saturday - Sunday

09:00 - 20:00
From Aug 23, 2021 to Sep 19, 2021
Monday - Sunday

09:00 - 20:00
From Sep 20, 2021 to Oct 31, 2021
Monday - Thursday

09:00 - 19:00
Saturday - Sunday

09:00 - 19:00
Prices
Free Access Card

Free
Outdoor tennis court
1 hour - until 5 pm

CHF 25.-
1 hour - from 5 pm

CHF 30.-
1 hour - until 5 pm (city tax and inhabitant)

CHF 21.-
1 hour - from 5 pm (city tax and inhabitant)

CHF 26.-